Add to Your Reading List: 10 Great Blogs for Older Adults
With countless senior blog websites available today, this post highlights ten great websites to check out and add to your regular reading. These blogs offer reliable information and answer questions seniors or their loved ones may have.
10 Senior Blogs to Add to Your Reading List
Cantissimo Senior Living is a place for seniors and their family members to find free information about the next phase of life. Cantissimo Senior Living offers frequent online content to provide transparency to readers while making housing, lifestyle, and wellness decisions. In addition, readers can find information about health, safety, hobbies, technology, and more. These blogs, along with various resources, videos, etc., are meant to ensure comfort and confidence for those that are planning their future senior living plans. To connect with Cantissimo Senior Living, readers can interact with an online forum, Facebook group, or follow Cantissimo Senior Living on Facebook, Instagram, Twitter, Pinterest, and LinkedIn. Or click here to subscribe to the blog!
2. myLifeSite
myLifeSite presents information about continuing care retirement communities (CCRC) based on extensive research. It has been recognized in the media by sources such as The New York Times, Investor's Business Daily, CNBC, USA Today, and more. Along with their highly acclaimed blog, myLifeSite also features free resources, including a retirement guide, consumer surveys, videos, commentaries, and additional research. The co-founder and president of myLifeSite, Brad Breeding, is a national speaker for industry trade organizations, retirement living providers, and learning classes for seniors. Breeding also wrote a book, What's the Deal with Retirement Communities?, that has a five-star rating on Amazon. One thing that sets this website apart from others is financial resources such as CCRC fees, side-by-side price comparisons, financial calculators, and a financial viability guide.
3. AARP
The American Association of Retired Persons (AARP) is an interest group and website focused on issues affecting anyone over the age of fifty. The AARP blog offers written and video content surrounding current events, health, retirement, entertainment, and more. While the AARP blog includes extensive information, AARP is widely known for the member benefits. AARP strives to increase the quality of life for nearly 38 million seniors nationwide. The membership costs $12.00 per year and offers numerous benefits such as discounts, healthcare advice, community connections, and more.
LoveToKnow Seniors is a blog made for seniors, the families of seniors, and caregivers. This blog offers both written and video content about diverse topics, including retirement living, financial planning, health, activities for seniors, senior citizen services, fashion and hair, and more. While the LoveToKnow Seniors blog is impressive, it also has features such as an online antique shop, photo slideshows, and expert interviews on the website to establish a place of learning and creativity.
Suddenly Senior is an entertainment website for seniors looking to relax and laugh. This is a trusted website that has about 3.1 million monthly readers worldwide. Suddenly Senior includes a blog that uses a humorous approach to senior living topics. To make things even more fun, this website contains senior trivia, online quizzes, and jokes to ensure that readers can laugh at the ups and downs of aging. Seniors can also find product reviews, saving opportunities, and travel information to help seniors make smart and affordable purchases. Under the "Senior Nostalgia" tab, readers can find stories about the past to be brought back to the good old days.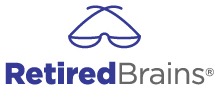 Retired Brains has been called one of the best retirement advice websites since 2003, dedicated to helping people plan, explore, and learn about life after retirement. Readers can find work opportunities ranging from part-time jobs to volunteer opportunities. For those that want to retire from the workforce fully, this website also provides information on travel, relationships, grief, health, and more. Retired Brains recognizes that retirement is a significant life change that should focus on financial stability, personal growth, and quality of life.
7. Road Scholar
Road Scholar is a not-for-profit travel website committed to inspiring seniors to travel, discover, and learn. This organization offers learning adventures around the world for the right price. Road Scholar trips include transportation, lodging, food, expeditions, and expert lectures for a price that saves about 20% per night compared to most travel companies. Road Scholar presents about 300 grants each year to those that could otherwise not afford a trip. This website also has a blog that focuses on learning and travel experiences to help plan an adventure. Through Road Scholar, seniors can gain knowledge, make new memories, and make new friends.
Senior Planet works with Older Adults Technology Services (OATS) to help seniors learn new skills, stay active, and thrive in the age of technology. Technology and workout classes are offered online or in-person at any of their six locations, including Maryland, Colorado, Texas, California, and two New York locations. Visit the Senior Planet Newsletter to read about upcoming events, success stories, inspiration, and more.
9. Stitch
Stitch is a website that helps anyone over 50 years old find companionship, whether that may be romantic relationships, friendships, or communities. This website was created to help improve the quality of life of seniors around the world. Through local and travel events, loneliness and social isolation can be conquered by individuals through companionship. Stitch also provides user videos and stories on their blog to express to seniors how this community can inspire and make a difference in people's lives.
10. Senior Forums
Senior Forums is a public website for seniors to ask questions and receive answers from other seniors. Although this is not a blog website, it can be advantageous to gain insight and advice from people in a similar life stage. There are countless discussions about countless topics such as retirement, hobbies, current events, health advice, tips and tricks, and more on this forum.
Let us know in the comments below - what else do you like to read?